På konsert - radio
NRK Klassisk gir deg hele verk fra de beste plateutgivelser og konsertscener i Norge og utlandet.
Festspillene i Bergen
02.06.2021 · 2 t
Amerikansk musikk direkte frå Festspillene i Bergen: Bfo vert leia av James Gaffigan i Charles Ives' 3. symfoni; Missy Mazzolis Vespers for violin og Dark with Excessive Bright - fiolinkonsert med solist Peter Herresthal; George Walkers Lyric for Strings; John Adams' The Chairman Dances og George Gershwins Promenade. Vi blir også betre kjent med festivalkomponist Missy Mazzoli!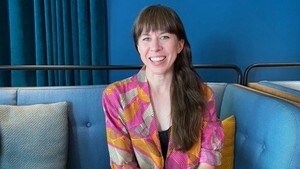 Medvirkende
Gjest:

Missy Mazzoli

Gjest:

Peter Herresthal

Komponist:

Charles Ives

Komponist:

George Gershwin

Komponist:

Missy Mazzoli

Lydtekniker:

Njaal Mangersnes

Produsent:

Haakon Gunby

Produsent:

Krzysztof Drab

Programleder:

Marion Hestholm