Filmpolitiet
Birger, Marte og Sigurd oppdaterer deg på ukas aktuelle filmer og serier! Her får du tre timer med godt selskap og den beste P3-musikken.
29. januar
29.01.2023 • 2 t 57 min
Nye filmer anmeldes: «The Banshees of Inisherin», «You People», «Decision to Leave», «Plane», «Shotgun Wedding» og «Munch». Vi snakker også om seriene «1923» og «The Rookie», og ser på årets Oscar-nominasjoner! I studio: Birger Vestmo og Sigurd Vik.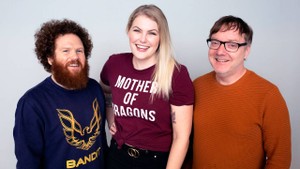 Medvirkende
Programleder:

Birger Vestmo

Programleder:

Sigurd Vik